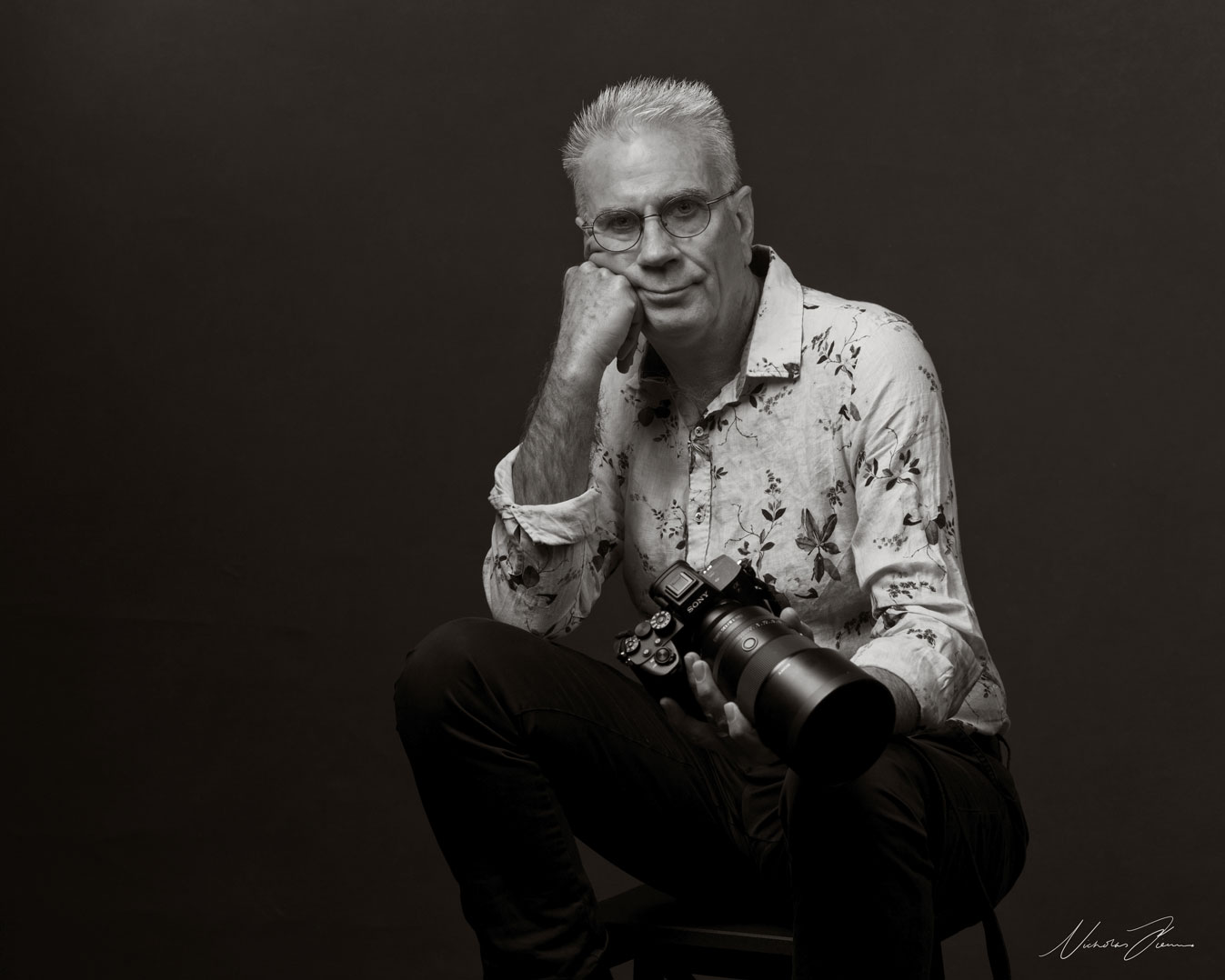 Speciality time: My entire life.
I started off in stills photography and training, and moved into motion/news category picture into more advanced motion cinematography. And I have always run two strands of cinematography and photography. The two are kind of in tandem.
Inspiration for starting: I always had an inkling to wrap a frame around things that I saw. I was always fascinated by the things I saw and how I kept a record of them. A fascination of new places whether it be a new suburb where I was, or traveling to exotic locations, and a fascination with new places and new people.
My Photography and cinematography has always been centred around people and places in the world. I always try to have a human element in the shot even if it's hidden remotely. Very curious about the fact that in those days you could develop your pictures at home on your own in the bathroom. I fell in love with the process.
Developing the negative myself and printing it, and the hook for me was under that red light in the bathroom rocking the tray and watching that image emerge. I was so excited I would often turn the light on and see the image, but it would then dilute the image itself but I came to realise this was a quite nice effect and then often did it on purpose to give my images a different look. It's called pre flashing and I became a pioneer.
Full time, part time or hobby: Full time
How long have you been a Cinematographer?
I have been doing that job for my entire life. It's the job that I wanted to do when I was 10 years old. I grew up in a very small school in Lismore. Friday afternoon was an art class with butchers' paper and paints, I couldn't draw very well at all and the other 10 kids in the class were wonderful. I got my mum to teach me how to draw a landscape and so every Friday afternoon I would do the same drawing, it never changed. But I used to have a little signature of a stick figure of a man standing with a tripod in the bottom right hand corner, and from the age of 8 I always imagined that's me. To go do that job. I would develop the films I took in bathroom at home. When I was about 10, I got a Brownie Star Mite camera. I don't think it was the top of the tree, but I still have it in my office at home. It had a little flash and the stick in bulbs.
Do you have a best moment to date, a personal victory in your career?
There is a lot. The interesting thing about my craft is you never really plan ahead to travel the world from the age of 8. It was always a dream I would be a success in those days. You thought of it and pursued it. The path ahead then evolved. It's much harder today there is much more variety in the different mediums for all types of imaging. In those days it was smaller, you jumped on the track and there was one track and you went 100 miles an hour. I never thought I would be having this career in 175 different countries. It comes with a patch when you are in the documentary world. I only like doing the real world. I love the eb and flow of documentary and that things don't always go to plan. I think most cinematographers want to go to feature films etc where you have a higher element of control whereas documentary work is unpredictable.
Milestones for me would be Trans-Siberian railway going across Siberia and I worked on The Red Express series about this railway. It was a 4-part 1-hour episodes series. I actually happened to be working on this series in the late 80s with a mammoth shift in the Soviet Union and travelling on the railway across Russia. While we were filming the wall fell down in Berlin. We quickly rushed back to Berlin to take footage of it. It was just a coincidence. We chartered a helicopter.
I worked with James Cameron on the wreck of the Titanic. I was shooting a little corporate job in Sydney and my phone rang and it was a producer in America saying 'we want you to join us we believe you have 3D experience' which I had, and I had worked in submarines on a series called Submarine Sharks. James Cameron had seen it and thought it was amazing. I knew about deep sea cinematography as a diver and in a very small submarine and this was an IMAX 3D venture Ghost of The Abyss in a very small submersible. I'm one of not many people who work to an international base. I do a lot of national history work too with David Attenborough, it's not my specialty though I don't limit myself to one thing. I work to a variety.
Did you have to do any formal training?
I started off at The ABC in the late 60s, 1968. As a camera assistant. In those days the ABC had a pretty good training school for cameramen which included on the job training and theoretical. You had to read and study and pass exams. If you didn't pass the exams you couldn't progress. Not exactly classroom based. It was practical and theoretical. And basic camera shooting. I was very lucky coming up through the ABC school. If you got a job as a Camera Assistant, you were expected to do that or not go anywhere. I was also paired up with a fantastic French cameraman just filming news etc.
At about 19 I had not been overseas, it wasn't on the radar then, but the news director rang me, and I was working in Canberra cause nobody else wanted to work there. He said 'do you have a passport'? I said no and he said 'well you better get one cause in 2 weeks time you are leaving to go with Gough Whitlam to Indonesia to film as part of the press core'. It was pretty amazing my first overseas trip was on a VIP jet with gifts etc. This went on and on I went all over the world which was amazing for a young guy, it just dropped in my lap. It was a tad bittersweet. You are traveling all over the world pampered in a beautiful aircraft but the work you are doing is pretty boring meetings, prime minister getting off the plane etc. I felt a bit boxed in a corner.
I left for overseas, bought a motorbike and travelled all around Europe and Africa on my motorcycle. It was something I always wanted to do. Then I came back to a job at the ABC in Sydney and my career then really took off. I started on a show called A Big Country, and I was really fresh and ready for this job then. I worked hard in Canberra, so I had a mini reputation and made good contacts and friends at the ABC.
Your biggest accomplishment?
The other series I worked on was a BBC/ABC production called The Great Wall of Iron, which was a 4 part series about how the People's Liberation Army of China spent months and months living in China, embedded in the Chinese PLA which involved filming on large naval vessels in the air force with thousands of soldiers at our disposals. Interesting encounters!! Bit scary. Got stuck on a WW2 submarine for a while which wasn't fun. We were stuck in the Balkans in a submarine diesel electric. Always go to the toilet before getting on a sub, ha ha ha note to self.
How has COVID-19 affected your ability to do your craft?
I decided 15 years ago I didn't want to be the age I am now with a heavy camera on my shoulder and the travel, it's a lot of hard work. Budgets were getting smaller and expectations were getting quite dangerous. I decided to expand into training. I always loved talking about my work. I started to run workshops. I have been training people as a business, more one to one for over 15 years. I don't advertise, I have my own premises in North Sydney. People come via online bookings and appointments.
Mostly people who are wanting to expand into video or expand their skills. A lot of photographers are wanting to branch out and learn video as well as their stills photography. It's about getting experiences. Clients are now asking for more and they want to be ready. I have trained all of the Herald photographers in Sydney and Melbourne. The Dept of Communication, Treasury and Defence. I like working with the Department of Defence, I'm used to dealing with tricky situations. I have been hidden in boots of cars etc.
In making this tangent it has saved me during COVID-19. People now know I do a lot of training, so I don't get as many of the bigger jobs anymore anyway. This is good because all the documentary side of things have stopped because of COVID-19. I'm scaled back but it's ticking over still. I'm still able to work with clients one to one. All my Melbourne clients, which are a lot, have had to cancel or defer their sessions.
I'm also invited onto exclusive cruises around the work to lecture in cinematography and as a mentor for expeditions. These are high level cruises, only about 500 guests. I am flown onto the ship to lecture and teach my craft.
That has stopped, but in March 2020 I was on a small ship in Brazil, but got stuck there due to COVID-19 borders and airports were closed. I was stuck for 2 weeks on the ship. DFAT had to come get us out on a charter flight. We were lucky because not long after that even DFAT could not get people back. That was a tad scary. But I was one of the first waves of rescues out of South America. I was really worried.
What could the Australian Government do to back performing arts?
I think the government ignores the arts all together. There is just no consideration of the Arts, and this government never has. When the shit hit the fan, they doubled down and did nothing. They were not about to start now. Through a lot of lobbying and people voicing their opinions we need the government to acknowledge the Australian Arts.
A lot of people think of the Arts and just think 'struggling artist' but it is so much broader than just performers or an artist, it's the whole industry. Film and freelance cinematographers, sound recorders and cameramen it's tough at the best of times for them in this industry, let alone now when nothing is happening. They are really struggling. They are all sitting dormant right now.
JobKeeper etc could be put towards peoples training. We just need funding, funding, funding to keep the momentum of the 2.5 million that was given recently, but acknowledge this is a whole sector of people who actually bring joy every day to society.
Request an appointment
Let's discuss your photography experience